Nikolas Hemion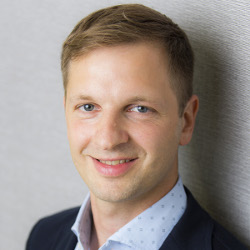 Robotics and A.I. Researcher
Contact
Nikolas Hemion
E-mail:
nhe
@6@
mio
v72
n@a
@hk
lde
qnl
bar
cut
an.
cl.
com
Position
Research
Fundamental Research in Machine Learning for Robotics
The Artificial Intelligence group (AI Lab) is the fundamental research unit of SoftBank Robotics Europe. We focus on developmental robotics, with the goal to make progress in the understanding and modeling of the mechanisms of development and learning in robots.
Learning from Demonstration
Enabling users to teach their robots new tasks at home is a major challenge for research in personal robotics. Dynamic Movement Primitives provide a promising basis for building a learning system that could be employed for such a task.
These two videos show how Pepper can be taught new skills in relatively short time. We use a "learning by demonstration" procedure, where a movement is first demonstrated to the robot by guiding its arm.
From there, Pepper has to improve its performance through trial-and-error learning. Even when the initial demonstration is not a successful task execution, Pepper can still learn the skill.
Ball-in-a-cup (bilboquet):
Velcro dart:
Gaining Control over the own Body through Trial-and-Error Learning
In contrast to standard Reinforcement Learning techniques to learn this type of robot behavior, the learning system in this case efficiently accumulates knowledge (in the form of a model) about the way its own body behaves in the environment. This is beneficial, as it allows the robot to exploit the gained knowledge to produce a multitude of behaviors, whereas Reinforcement Learning only optimizes a single behavior.
A video of Nao learning:
Publications
Publications
Brief Bio